Hey everyone, welcome back! It's been a while since I have sat down and written an opinion piece like this, mainly due to the amount of time I have been spending on getting the magazine finished, you can still pick up a copy HERE there is now a digital option as well for those of you not too fussed about print, it's a project both myself and all my writers have put a lot of work into and it's great for it to finally be going out into the world!
However, putting that aside, today I'm going to be sharing my opinion on something that has been getting on my nerves recently and that is the use of cryptic teasing to promote music. If you have been reading my blog for a while now you will know that I am a fan of the UK alt-pop band The 1975, I have reviewed thier stuff, I've seen them live, I own merch and generally just think they are really cool guys making some good tunes.
Well, they are very heavy users of cryptic teasing and in short, I do feel they have taken it way too far, the hype building tweets from manager Jamie Oborne and the announcement of a countdown to an announcement it's all just a bit too much.
My socials are currently flooded with these 'A brief inquiry into online relationships' images, that, to be honest, have struck me as a bit social justice warrior-y, suggesting that we need to look up from our phones and that pop culture is a problem, when in reality they owe a lot of thier success to social media, much like any band given the current state musical climate but then over the past week or so there has been a shift in representing social media in a more positive light. They want to confuse you, they want to get you thinking but instead, they don't really do anything other than fill up feeds. I don't see them and get excited, I see them and in a way, it does the opposite pushing me away from the band, because yes they might make sense once we are given the album, song or whatever we are getting in the end but as it stands they hold no meaning at all. Fans are freaking out, printing them and putting them up around their city and I just find that mad and only pushes the idea that fans of bands will do anything if they think it will get them noticed.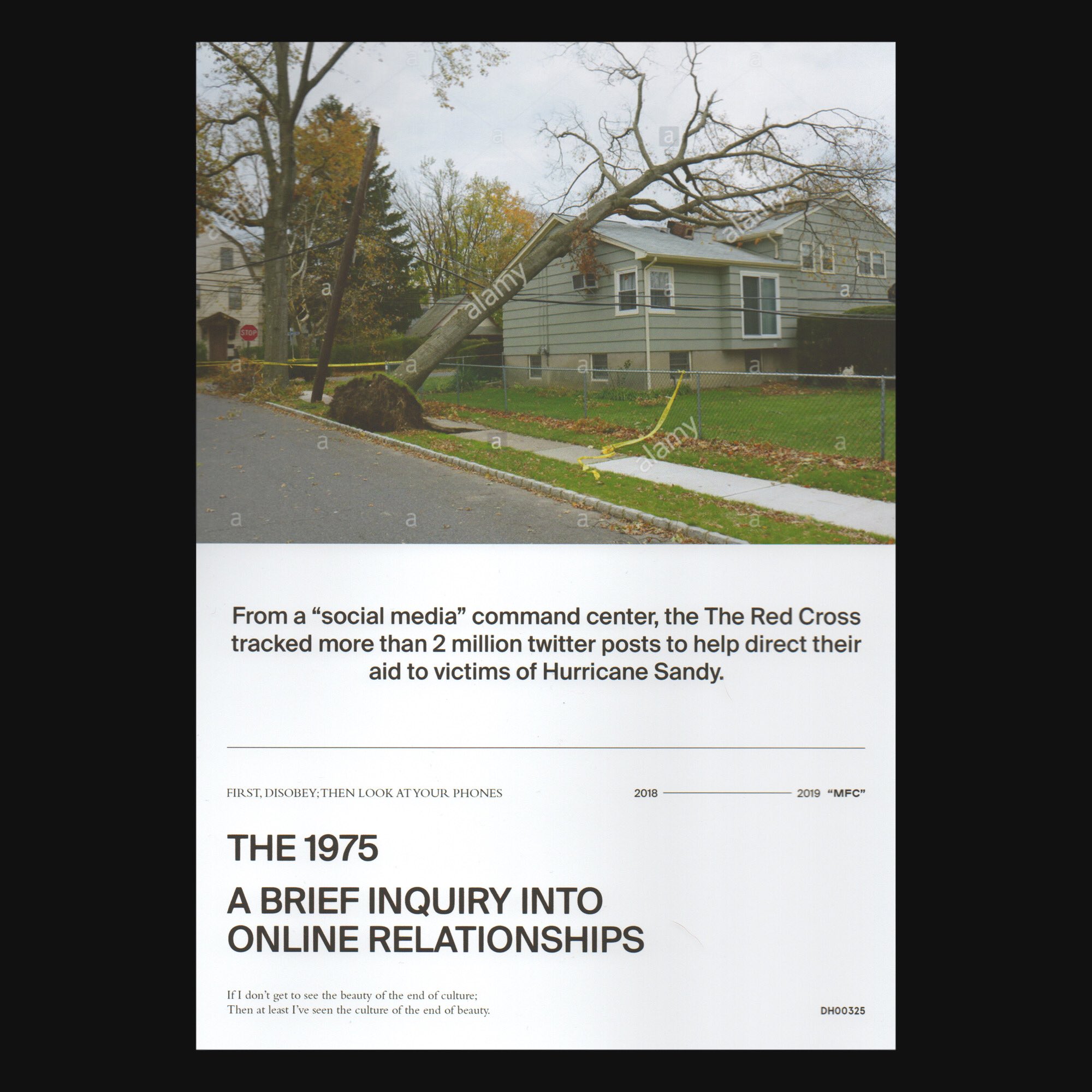 This just feels like they are putting these meaningless images online and fans are looking and attempting to decipher a hidden meaning, but I can just imagine the band sitting back and laughing at people because they know full well what they are doing.
It's clever marketing to an extent, geared towards the very heavily involved fans, I know how exciting it can be at times I have definitely jumped on The 1975 hype bandwagon in the past but now I feel as if I can see through it and see it for what it is, marketing. It's there to build hype but I feel they are pushing it way too far.
Over the last could of days or so we have been getting a video of a number every day, obviously counting down to June 1st the day we are meant to be getting whatever we're getting, many are saying a video and to be honest if it is that's going to be the biggest letdown, over a month of hype for a video. Whatever we get I can almost guarantee It wouldn't have warranted that big of a build.
I was thinking of making this post non-specific to these guys as I did want to represent a broader issue however, I don't see any other band doing it to this extent (other than Twenty One Pilots but I try to not even acknowledge them anymore), give us a day of teasing, keep it fast and more importantly keep it exciting. This isn't something I see The 1975 stopping anytime soon because as much as I hate it, It does work. I find it very sheepish and in a way, exploitative of thier young fanbase who they know will flip their shit every time a number or fact is tweeted.
Just give us the music, please.