Festival season is upon us and if you're like me it's always difficult to know what to pack, you always end up either forgetting things or packing way too much to carry. Today I am going to be sharing with you 7 must have products for festival season 2019.
Disclaimer: Many of these products were gifted to me by the companies these will be marked with a * and any affiliate codes will be marked with **
Vango Gamma 200*
£100 www.vango.co.uk/gamma-200
Let's kick this list off with undoubtedly the most essential product, a tent. The Vango Gamma 200 is super compact and light to carry, sleeping two it only takes 10 minutes to assemble making it ideal for festivals.
I had a go at pitching this in my garden as was so surprised at how easy it was, it has two same sized poles and really clear, easy to follow instructions making it almost impossible to mess up. I know that for a lot of first-time festival goers the idea of having to pitch a tent can be quite daunting so I cannot recommend the Gamma 200 enough. Something else I can really appreciate is how easy it is to get back into the bag because the last thing you want is to be wrestling to get it all back in.
It's £100 which is super affordable considering you can use it year after year. When selecting a tent to feature here I just had to go with the Gamma 200, it's a dream!
NoMad 37L Cool Ice Box*
£195 www.coolicebox.com/37l-nomad-cool-icebox
Buying food & drinks at festivals can be expensive and if you have certain dietary requirements it can be a nightmare to try and find something for you. The NoMad cool box with its premium grade insulation keeps contents frozen for 3 days and cold for 6 days, making it ideal for those festival weekends.
Designed as one of the most prestigious cool boxes on the market it comes in 7 different colours including royal blue, yellow and hot pink to match your personal style. It's definitely a large one storing 12 bottles of champagne upright but also sturdy meaning you could even use it as a little stool to perch on, which is also very handy. Remember to pick up some gel packs as well as this doesn't come with any included, their 1000g large rigid gel packs work great with this, you can pick them up here: coolicebox.com/large-rigid-gel-pack-1000g
Full Circle- Hygiene Kit **
£22.99 www.gofullcircle.co.uk/full-circle-pack
Festival showers can be unpleasant and the best of times, the queues are often lengthy just to get a minute or two of freezing cold water. Full circle have produced the ultimate solution with their planet- positive hygiene kit containing everything you need to keep yourself squeaky clean and smelling fresh.
Let's have a go through what's included, Herbal fresh pump anti-bac hand gel, coconut scented dry shampoo, unisex deodorant, no rise body wash in citrus, natural bamboo toothbrush, eco leaf toilet paper, a biodegradable towel, a pack of face wipes and last but not least English peppermint natural toothpaste in an aluminium tub. All of these products come in a handy 100% natural cotton drawstring bag making it your easy one-stop shop for everything hygiene.
All of these products are made in the UK, are non-animal tested and vegan-friendly as well as either reusable, biodegradable or recyclable making it great for both you and the environment. A portion of your purchase is also donated to charity to help provide children all over the world with access to clean water, so what's not to love? Make sure if you want to pick one up that you're quick as there is limited stock and these will go fast!
EverCreatures- Meadow Wellies
£37 www.evercreatures.co.uk/all-black-plain-meadow-wellies
UK weather is unpredictable to say the least so you always find yourself debating what footwear to pack, the EverCreaturers Meadow wellies are perfect. They feature an ankle cut to give them a super sleek look, their moulded design and padded inner makes them not only nice to look at but so comfortable to wear.
This design comes in 15 different colours and patterns including camo, stripey and even chicken printed. I went with their plain black ones as but theirs definitely one there for everyone.
Anker PowerCore Speed 20000*
£37.00 www.amazon.co.uk/Anker-Upgraded-PowerCore
There is nothing more frustrating than your phone dying at a festival, so packing a power bank is essential for all those social media posts. The Anker Powercore 20000 is a perfect choice, super high capacity so it will keep you charged up for the whole weekend with 7 full charges of an iPhone 6s and 5 of a Galaxy 6s.
It's really lightweight, impact & temperature texted making it the perfect festival accompaniment. I've been testing it out over the past couple of weeks and it's undoubtedly the best power bank I've ever used, so fast, so sleek I love it.
Vibes- High-Fidelity Earplugs*
£21.00 www.discovervibes.com
Hearing loss isn't something that's at the forefront of our mind when we head out to festivals but it's definitely something we need to be considering. Vibes are making it super easy to protect your hearing with their Hi-fidelity earplugs, they aren't your typical yellow foam earplugs that block out the sound instead they feature sound enhancing filters that increase clarity while also reducing the sound by up to 15 decibels. Allowing you to enjoy the music in a much safer way.
They come with three interchangeable sizes of the buds so you can find the perfect fit, they come in a pocket-sized carry box so you don't lose them. As well as protecting your hearing through purchasing these you will be helping children worldwide with theirs, Vibes are partnered with the 'Hear the world foundation' that funds projects that provide hearing healthcare to children with hearing loss and creating a better quality of life for them.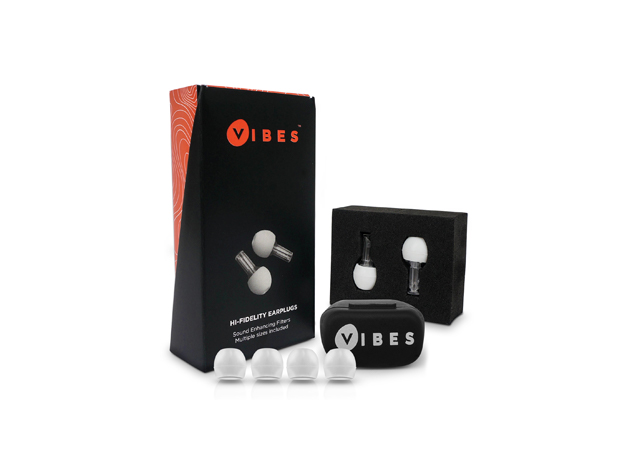 Urban bottle*
£25 www.urbanbottles.com/store
With many festivals including Glastonbury banning the sale of single-use plastic bottles, a reusable one is definitely a must have for any festival goer this year. Urban Bottles are a family run business who are on a mission to reduce plastic use with their stainless steel and customisable bottles.
Available in 10 colours with 3 different finishes there is a bottle for everyone, the ability to customise is something I love they have 5 different font choices to match your style perfectly. Not only do they look great but they will keep your drinks cold for up to 24 hours and hot for up to 12 hours.
I personally went with the Panther black colour with my name engraved, I am absolutely in love with this and have found myself using it on a daily basis, throwing some ice cubes in there at the start of the day with my water keeping it cold all day. I can't wait to make use of it at a festival and you definitely should as well.
Now you're all ready for festival season, if you pick up any of these products make sure to tag me on Instagram in @lucy_mccourt_blog over there, I'd love to see them.